How We Operate Our AMS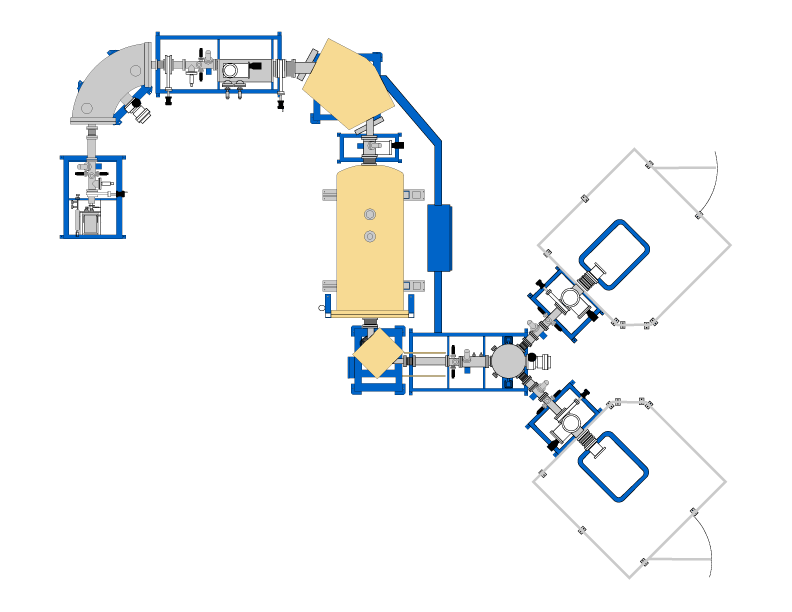 The 14CHRONO Centre operates a NEC compact model 0.5MV AMS for carbon dating. We typically measure about 200 unknown samples and 30 known age secondary standards per month. Sample preparation, pretreatment, graphitisation and analysis is carried out by a team who, among them, have over 100 years of radiocarbon dating experience.
We remeasured the VIRI bones in October, 2013
We have two graphite production rigs, one based on a zinc reduction and the other on hydrogen reduction. Each rig has 12 reactors, and can be run once a normal workday. Sample wheels going into the AMS will generally contain 3 days production from one of the rigs. We do not mix graphite produced under hydrogen with graphite produced under zinc in a single sample wheel.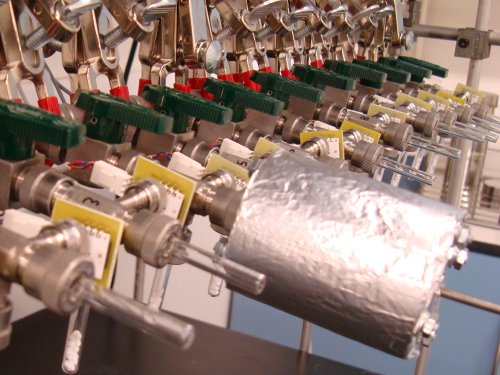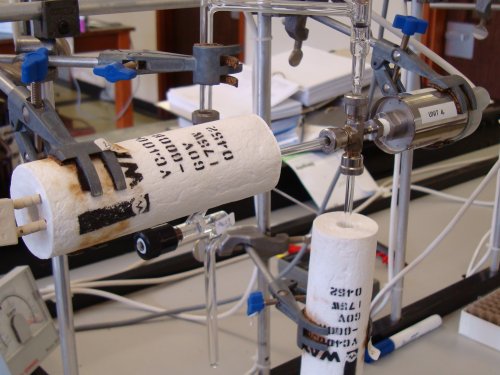 The structure of our sample wheels is the following: A typical wheel has 4 rungroups: a tuning rungroup followed by 3 rungroups of eight unknowns. The tuning rungroup consists of two blanks, two OX2 standards, and 2 pairs of secondary standards. The blanks are usually combusted coal, for which we get a 14C / 12C ratio of 1.8-2.5 e-15, corresponding to a radiocarbon age of about 50,000 years. The secondary standards are mainly taken from among
| | | |
| --- | --- | --- |
| Identifier | Comment | F14C |
| TIRI/FIRI C | International Intercomparison | 0.079 |
| UB4388 | radiometrically dated Irish oak | 0.838 |
| TIRI/FIRI D | International Intercomparison | 0.422 |
| TIRI/FIRI I | International Intercomparison | 0.421 |
| ANU sucrose | IAEA-C6 | 1.506 |
Each cathode in the tuning rungroup is run for four 2-minute exposures. A typical exposure of the OX2 standards produces approximately 45,000 counts. If the AMS machine is deemed to be running satisfactorily at this point, the tuning rungroup is transferred to the last rungroup where all cathodes will be run for 4 more exposures at the end. All cathodes are run for seven 2-minute exposures.
The first and last rungroups of unknowns 'borrow' an OX2 from the tuning rungroup, so that the wheel contains 6 OX2 standards. If all the OX2 standards are sufficiently alike, the unknowns in each rungroup are normalized to the nearest in time runs of bracketing OX2 runs to form the ratio to standard. If one or more of the OX2 standards are deemed to be outliers, an average of all the standards is taken for ratio to standard normalization.
13C Fractionation calculations are carried out with online measurements of 13C/12C ratios in accordance with Stuiver and Polach, 1977 and the AMS specific versions of those equations